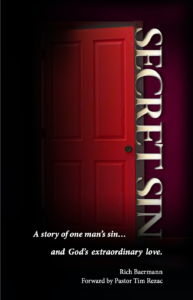 Courageous self-disclosure about a rarely discussed topic – masturbation addiction. Written for the purpose of helping the thousands who struggle with this problem and other sexual additions
Print Length: 80 pages
Publisher: Grace Acres Press (eBook, November 15, 2020)
Publication Date: 2014
Retail: $4
What People Are Saying:
Rich Baermann opens up the window to his soul and allows the reader to experience an honest struggle that engaged him for years. His openness and willingness to share his journey will be helpful to many and could be a catalyst to beginning a discussion that, for many, needs to take place.
Dave Wager, President Silver Birch Ranch White Lake, WI
I have been privileged to be Rich's brother-in-law for many years. I have witnessed his growth in Christ and his humble walk with the Lord. This book is just an extension of his following, serving and loving His Lord. It is heart-felt and brutally honest and will be a godly challenge to all who read it.
Bill Hoving Church Planter & Missionary Baptist Bible Fellowship Int.
In Secret Sin, Rich identifies a familiar struggle to many. His vulnerability allows readers to identify, but his work goes far beyond building a bridge of shared experience. Rich articulates the Power that is available to gain victory over sin— any sin. Especially helpful is Rich's parsing of trusting vs. believing and repentance vs. confession.
Steve Sanford, D.Min. President/Academic Dean Nicolet Bible Institute