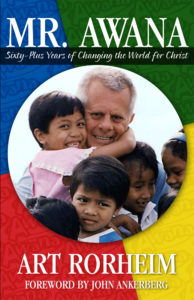 What does it take to start a ministry now thriving over six decades later and impacting over a million children and youth, 250,000 volunteers, and 300 field staff each week? Are there secrets to mission integrity and growth? Follow Art Rorheim from a young man serving as the Youth Director at North Side Gospel Center in Chicago to the leader of an international, multi-mission organization. Listen to his heartbeat and learn as he learned that the true leader of this organization is Christ.
Mistakes? Yes. Challenges? Many. "So what do you do when you don't know where to turn?" writes Art. But step-by-prayerful step, programs and people developed making Awana one of the leaders in mission organizations. Now with 18,000 clubs in over 100 countries, Awana is identified in research as being a major influence in personal spiritual growth. Awana now encompasses these ministries: Awana Clubs; 24/7 Ministries; Awana International; and, Awana Lifeline including Malachi Dads and Returning Hearts Celebration.
Meet the people who influenced Art. Visit the camps and campers. Hear from clubbers themselves. Travel to the countries where Art ventured. But most of all, learn from Art important lessons that can be applied to any mission group. Anyone who has attended Awana clubs will be inspired by the behind the scenes experiences. Christian schools and homeschools will want to add Mr. Awana as part of the literature course in biographies.
Print Length: 288 pages
Publisher: Grace Acres Press
Publication Date: 2011
Retail: $7.00
What People are Saying
Recommended by:
Dr. Erwin Lutzer
Tony Evans
Janet Parshall
Elmer Towns
Dr. John Ankerberg
Elmer Towns
and many more ministry leaders!
If I have learned anything from this book, it is that when you love God with all your heart, soul, and strength, and when you give yourself over completely to God's use, He is going to use you in a powerful way. This book is Art's life, which is entwined with the life of the Awana program. There are amusing recollections as well as painful events that helped shape his life.
Tracie Coffey, Coffey Reader
Will readers interested in Christian history eer enjoy this autobiography of the founder of Awana! It's loaded with photos, familiar names, and events from the organization's early days. But beyond the nostalgia is the story of an individual whom God used to influence countless lives, particularly children, for Christ. Dr. John Ankerberg writes in the foreword, 'For those longing for a deeper walk with God, a clear presentation of the true gospel message, and a powerful example of one who has been doing it for a lifetime, this book is for you.
Norm Olson, Baptist Bulletin
Your lives have been an amazing journey and you should both be proud that you have taken the time to share this story in the form of a book. There were a few things that stuck out to me.
-Single minded focus
-Leadership
-Imagination and ingenuity
-High expectations
-God vs man
Thank you for the inspiring and interesting book.