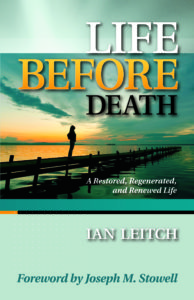 The answer to humankind's need:
Restored back to a right relationship with God
Regenerated to correct behavior, conformed to God's image
Reflecting God's likeness
A clear Gospel message to impact eternity and today!
Print Length: 160 pages
Publisher: Grace Acres Press
Publication Date: 2007
Retail: $7.00
What People are Saying
Jerry Jenkins
Novelist
Engaging, smart, persuasive, conversational, and full of stories-Ian's book is just like Ian. Enjoy!
Luis Palau
Evangelist, Luis Palau Association
Ian Leitch is a wonderful servant of God. Having known Mr. Leitch for more than 30 years, I have seen firsthand his impeccable character. I have been blessed by his knowledge of the Bible, his anointed teaching and preaching, and his great sense of humor. I have the utmost respect for Mr. Leitch, and know full well that this book will impact countless lives.
Charles Price, Sr.
Pastor, The Peoples Church, Toronto
To know what happens when we are saved, we need to know what happened to Adam when he fell. Salvation is an exact reversal of Adam's fall. Ian Leitch explains that our problem is not that we are guilty, but that we are dead-spiritually dead. So the answer is much more than forgiveness: it is to receive Life, which is the only thing that counters death! And this life is the life of Christ Himself, who comes to live His life in us in order to express Himself through us. No wonder this book makes the Christian life possible, purposeful, and exciting!!
Jeanette Clift George
Actress, author, founder and artistic director of the A.D. Players
Ian's book is relevant to the contemporary Christian, not merely as a decoration on the library shelves, but in active application in the believer's daily life. Life Before Death is a trustworthy map for the home-hungry soul lost in the wilderness of detours, dead ends, and misdirection. For the believer peacefully at home in the practice of faith, this book is documentary evidence that standing firm on that which he knows is proper positioning for the celebration of grace.
John Hall
Gospel singer, preacher, Gospel-Net, Inc.
In my travels, I have been privileged to hear the finest Christian preachers and theologians of the past 40 years. I know of no one who so clearly, logically, and spiritually delineates the gospel of Jesus Christ as does Ian Leitch. Every time I hear him speak, I am refreshed again by the profound simplicity of the person and message of Christ. This book is just a sampling of Ian's exceptional gift for delivering that profound simplicity. Read it and discover again the wonder and life-changing power of the "simple gospel."
J. Lorimer Gray
Executive Director, Abernethy Trust
I have held Ian Leitch in the highest regard for the last 35 years. It is an honour to count him as my friend. Here in Scotland he has made a major impact over six decades through his preaching and teaching. Countless people have been won for the Kingdom of God as a result of his ministry, and thousands have grown in their faith through his stimulating teaching and seminars. His sensitivity to people, his wicked sense of humour, his culturally astute antennae, and his deep love for God's Word have been his hallmark and mirror the emphasis of the book he has written.
My own walk with God was powerfully influenced by Ian's simple yet profound explanations of the truths of the Gospel plus his emphasis on a disciplined study of God's Word and how to use practical systems to encourage my prayer life. He has been a real encouragement to my family, and his new book will undoubtedly be a rich blessing to all who read it.
Ray and Nancy Goudie
Directors of NGM (New Generation Music and Mission), Bristol, UK
Ian Leitch can be summed up as "you get exactly what its says on the tin!" He is passionate, full of integrity, a great communicator, a real evangelist, and a fantastic friend! This book carries all the truths and passion that Ian has consistently brought through his clear teaching ministry over the years. We fully commend not only this book but also the man behind the book!
Don Sweeting
Senior Pastor, Cherry Creek Presbyterian Church, Colorado
Ever long for a no-nonsense, bottom-line, easy-to-understand explanation of the Christian message? Then read Life Before Death. I've heard Ian proclaim this message on both sides of the Atlantic, in both secular and church settings, over a period of four decades. Ian not only knows how to articulate the gospel for seekers, his life commends it.
Rev. Dr. Tony Sargent
International Christian College, Glasgow, Scotland
A simple, straightforward, no-nonsense presentation of the Christian faith and discipleship. What makes this book so useful is that it comes both from the pen and the heart of an internationally recognized Christian leader whose ministry and experience over the years make him effective. Its style reminds me of a comment attributed to the Puritan era: I did preach what I did feel, what I did smartingly feel. The best communicators always do!
Dr. Ray Pritchard
President, Keep Believing Ministries
Author of Stealth Attack, An Anchor for the Soul, The Healing Power of Forgiveness
Would you like to know the God of the universe? The good news is, you can! Life Before Death is a direct, forceful, gripping message about how you can know God through a life-changing relationship with Jesus Christ. Ian Leitch cuts through any confusion and showcases what the gospel of Jesus Christ is all about. It reads easy but runs deep. Here is a book to be savored. If you read it with an open heart, your life could be changed forever. God truly does have a wonderful plan for your life, and this book makes that plan clear and compelling.