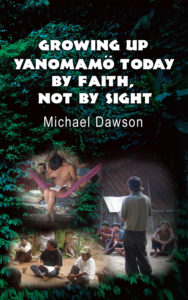 Following in his parents' footsteps, "Growing Up Yanomamo Today: By Faith, Not by Sight" is the continuing story of Mike Dawson who continues his missionary work with the Yanomamo people in the jungles of Venezuela despite the hardships presented under a socialistic dictator.
Dawson's love for the Yanomamo people is clearly seen through the many stories in this sequel to Growing Up Yanomamo. Whether hunting and fishing together or sending out evangelistic teams of indigenous believers to remote parts of the rainforest, Dawson descriptions will provide a front-row seat to this work without the mosquitos or fear of malaria. The medical aspect of the work has been crippled by the lack of air support which was taken away by the government. Indeed, Dawson's first wife and daughter died from malaria as has too many of the Yanomamo people when being able to get to medical support might have saved them.
Ex-witchdoctors and other tribal members also share stories in their own words. Readers will be surprised to find a dark connection between shamen's demons and Pokemon, and should take heed. Haunted houses, also addressed by an ex-witchdoctor, will be a cause for concern after reading his insight. Readers will gain knowledge of what it must be liked to be indwelt with demons controlling one's life. But the good news is that there have been more conversions to the gospel of Jesus Christ in the last ten years than in the previous fifty years. This is a message of hope, with a future. The demons offer me neither hope nor a future. – witchdoctor
Insects and wild animals are part of the daily life of a missionary in the jungle, as is traveling by river in all sorts of weather. Dawson shares how God provides safety, food, and even fuel which is scarce in this oil rich county. God has a plan for this country, this ministry, and our precious Yanomamo and the many other tribes in Amazonas State that have been abandoned, says Dawson.
Print Length: 354 pages
Publisher: Grace Acres Press
Publication Date: 2019
Retail: $9.00
What People are Saying
Critique: An inherently fascinating and ultimately inspiring autobiography, "Growing Up Yanomamo Today: By Faith, Not by Sight" is the personal story of an extraordinary man with an extraordinary mission. While very highly recommended for both community and academic library Contemporary American Biography collections, it should be noted for personal reading lists that "Growing Up Yanomamo Today: By Faith, Not by Sight" is also available in a digital book format (Kindle, $4.99).
James A. Cox, Editor in Chief, Midwest Book Review