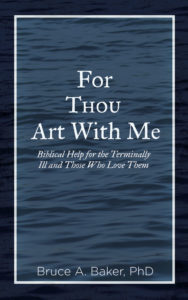 Receiving a diagnosis of a terminal illness causes many people to go into a tailspin of despair and depression. This is rarely considered a gift, but that is exactly what Baker conveys using his own experience and the truths of the Bible. With gentleness and candor, he explores the universal questions of why me, why now, and why this.
Baker explains that it s a gift for two very important reasons: first, it leaves you no choice but to face the inevitable; and second, you ve been given time to get ready. Now, obviously, all people, regardless of their health, have time to get ready. Everyone knows death is coming, and everyone should prepare for it. And that is exactly how this book helps.
The answer to why people fear death is obvious. All people know that 1) God exists, 2) that there is life after death, 3) that what one does in this life has a direct bearing on one s life after death, and 4) that between themselves and God something is wrong. This is why people fear death! Knowing why we are afraid to die does not help us overcome our fear of death.Exploring the reason for this fear is the antidote provided.
Baker shines light on what death means for the believer. It is a key in a door. It is a change in location. It is an answer to prayer. It is the delivery of the gift. These are evidenced by the psalmist who says,  Even though I walk through the valley of the shadow of death, I will fear no evil, for you are with me; your rod and your staff, they comfort me (Psalms 23:4).
Questions may arise about assisted suicide and Baker provides the distinction between termination of life and termination of treatment from a Biblical perspective.
One aspect of terminal illness that often goes unrecognized is the constant loss it entails. Nearly everyone recognizes the big loss at the end of the struggle but it is those other losses, the little ones that come before, that often go unnoticed. But they are not really little and need to be addressed. God gives examples that are highlighted in this book.
Baker says, "My prayer for you, Beloved, is that your life will be so totally transformed by the truths presented in this book that people will look at you the same way they look at me: As someone who possesses something different. As someone who has a peace that surpasses all comprehension."
Finally, a practical resource for someone facing the end of life. In contrast to more stuff, hope and help for the person who is dying as well as loved ones and care givers is the best gift that can be given.
Print Length: 124 pages
Publisher: Grace Acres Press (eBook, November 15, 2020)
Publication Date: February 1, 2019
Retail: $7.00