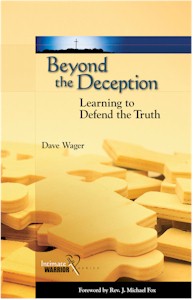 21 guided readings through Jude and II Peter, each ending with Another Piece of the Truth Puzzle for you to contemplate as you let Word impact your life.
Print Length: 110 pages
Publisher: Grace Acres Press
Publication Date: 2008
Retail: $5.00
What People are Saying
Dr. Woodrow Kroll
President, Back to the Bible International
If we are successfully to wage war against Satan, we must first understand his strategies. That's the last thing the devil wants, so I suspect that reading Dave Wager's book Beyond the Deception is one of the last things Satan wants. Some people live their entire lives and never grasp the insights that Dave Wager shares here in pithy, easily read thoughts. They are like dynamite for destroying the devil's deception.
Dr. Les Lofquist
IFCA International Executive Director, Grandville, Michigan
Based on key New Testament passages, these are timely reminders about the importance of truth and our adversary who seeks to distort and deceive. This is a most useful study on a most important topic!
Harry R. (Bob) Moyer III
South America Mission, Inc., Associate Director for the Fields
I have used it each morning since you sent it to me for my personal time of meeting with the Lord. It has been a personal challenge to focus on these Scriptures and thoughts and allow them to speak into my own life. As a mission's director and pastor to missionaries, I see this kind of guide as vital to keeping us on target. I am acutely interested in the spiritual development of our missionaries and this material is the kind I constantly look for. Dave Wager has a way of making us face the truth and ask the Lord "Where am I?" It is crucial that we, as Christ followers, continue to grow and stay in tune with the Lord and recognize anything that would throw us off. It is this type of thought-provoking reading that I, myself, need to read and re-read to keep checking on my own spiritual authenticity.
Steve Currington
Founder, Reformers Unanimous
With his third installment Wager enables readers to uncover many of the deceptions often used by the enemy. He offers a poignant reminder to all to be on the lookout for those, both inside and outside the church, who seek to distort our perceptions, and shows how we can expose their lies through the illuminating light of clearly presented biblical truths. His concise dissection of Scripture is remarkable because it not only reveals the warning signs in those around us, but also challenges each of us to take a closer look at our own lives.
David Johnson
Senior Pastor, Church of the Open Door, Minnesota
Dave's heart for God and his passion for the truth have been, and will continue to be, a help to many.
Nancy Swider-Peltz
Four-time Olympian, world record holder, coach
I have always admired Dave's ability to step back, look critically at himself, and "do something" about it. Upon such transparent honesty does this book motivate action in the reader to combat the deception and distortion of truth. Dave has truly integrated his upbringing, his faith, and his football life lessons into becoming a down-to-earth warrior for his God against the resistance of Satan. I have not met an individual more realistic and humble about his own human fallibility; hence Dave's dedication to knowing God and seeking His will and direction. Dave's challenge is to focus so intently on God's plan that any difficulty, pain, or suffering for God becomes just an obstacle to be defeated, just as the opposition or hard training in sports must be defeated or overcome to reach success. You will be convinced to seek, know, and defend the truth.
Greg Buchanan
Gospel Harpist, California
Fundamental and vital to the Christian walk are the thoughts shared in this book. Dave uses passion, clarity, and scripturally sound encouragement to help us walk in the grace of God. I highly recommend this book to all who desire to worship the Lord in spirit and in truth.
Rev. Dean B. Yoder
President & CEO, Christian World Outreach
In a day when absolute truth is being questioned by so many people, it is refreshing to read Beyond the Deception. He has captured the meaning of real truth. With his life experiences and the puzzle illustrations, this is a must reading for every Christian.