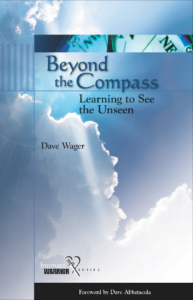 Can you believe something and not understand it?
Is my world really what I think it is?
What acceptable ways have I given Satan to deceive me with?
See what you have never seen before as you consider these questions along with Scripture and Wager's probing questions and comments.
Print Length: 104 pages
Publisher: Grace Acres Press
Retail: $5.00
What People are Saying
Marshall Shelley, Vice-president, editorial
Christianity Today International
An important part of spiritual maturity is recognizing the presence of God, right here, right now. Dave Wager's reflections and directional exercises in this book help us develop eyes to see what we otherwise would miss: the work of God in each of our days.
Roy Hanschke, Morning Talk Show Host
KPOF AM The Point of Faith
The friends I enjoy the most are the ones who cause me to think. Dave Wager's book, Beyond the Compass, has become such a friend to me. With poignant insights and fascinating questions, this book helps me think outside the box but never outside the Truth. In reading it, I find myself sometimes confessing my sin, sometimes repenting of my ways, and always wanting more of the reality of God in my life. I can't think of another book, besides the Bible, so succinctly written, that has led me to ponder so long and so deeply about those things that are most significant.
Kim Skattum, Pastor
Crossroads Church, Northglenn, Colorado
With keen insight and quick wit, Dave Wager has gathered readable thoughts on Christian life and practical theology. Wager's 'true north' "truths" are profound, repeatable and poignant. This book is a pleasant and moving experience.
Bob Kobielush, President
Christian Camp and Conference Association
Dave Wager answers questions that many of us think about, but are afraid to ask. In so doing, he provides refreshing insights from scripture and a window into his life – his lifelong pursuit of walking intimately with God. Conditioned by his leadership in the community of Christian camp and conference center, you'll find Dave's thoughts practical, challenging, and riddled with inspiration. It's highly recommended.
Dan Hettinger, Founder
The Jakin Group
There are plenty of devotionals, but not enough devotion. Dave's work will stir in us the devotion that all Christians can have when we get our sense of direction pointed toward the unseen, yet very real, activity in the heavenly realm. A quick glance at a compass will help the traveler find the way and arrive at the right destination. Dave's daily thoughts don't take long to read, but they point us in the right direction. This devotional moves the reader further into spiritual living for a more devout relationship with the invisible God.